---
LITERARY FICTION NOVEL: COMING SOON
​
RADIO DREAMS and DEAD AIR NIGHTMARES
What's really going on when the microphone is off!

After taking Radio 101 in 1979 as a lark, starry-eyed Grace LaVette gets bitten by the radio bug and realizes she wants a more exciting career than being a music teacher. The intrigue of radio pulls her onto a roller coaster ride of struggle and accomplishment: from working lonely overnights to the hilarity of morning shows, from dealing with patronizing co-workers to trying to fit in, from flattering hires to being mercilessly fired.
Throughout the '80s, Grace juggles the fake characters she must play on the air with who she is in real life, while the sacrifices she makes to succeed in radio take a toll on her marriage and personal relationships. Her journey towards finding her own voice in a male-dominated field includes both zany and alarming scenes, exposing the delightfulness and the dark side of the industry.
What pre-readers are saying:​
~ "I am usually reading two or three books at a time, and for this I set the others aside. I was totally immersed in the story, pulling for Grace the entire way."
~ "It's WKRP in Cincinnati meets #MeToo."
​ ~ "I'm blown away."
​
Lisa is looking for people to read an Advance Review Copy.
​Contact:
radiobook@lisalehmann.com
---
​LAKE MICHIGAN: THE WISCONSIN SHORE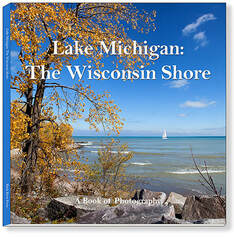 ​A unique gift for lovers of the Lake Michigan!
​Nine Wisconsin photographers share their best images in this beautiful, glossy, hardcover book. Many are once-in-a-lifetime shots, such as white-tailed deer running through the shallow waters of Lake Michigan and pictures taken while crewing on the tall ship Denis Sullivan in the Sheboygan Harbor at sunset. The book showcases over 100 gorgeous photographs along with descriptive captions, poetry and Great Lakes facts. Recognized in 2015 as a National Indie Excellence Award Finalist.
SHEBOYGAN AREA PICKUP or DELIVERY:
To arrange, call Lisa at ​(920) 912-8691 or send a request by
email
.
​
ONLINE ORDERS:
Choose the number of books from the menu and they will be shipped within two days.
---
A portion of the proceeds is donated to nonprofit organizations which support the Great Lakes.