BOOKS
---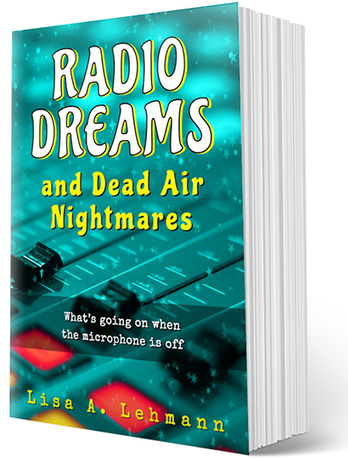 Literary Fiction - Coming soon!
RADIO DREAMS and DEAD AIR NIGHTMARESThere's a certain cachet to working in radio—​even in a small market. A glittery, ephemeral energy; an excitement of something yet to come.
"It's a unique take on radio written from a realistic but still joyous perspective. It all flows—the ups and downs, the self-doubt, elation, marital strife, and 'inside radio' elements which are described in a way that's interesting to both radio types and avid listeners. By the way, I still have radio nightmares."
​ ~ Lee Harris, Morning News Anchor, 1010WINS - New York
​
"Radio Dreams and Dead Air Nightmares" is the story of Eva LaVette, a young woman growing into her career, struggling to find out who she really is while taking on the identity of different radio stations from Jazz to Lite music, from Country to Polka. On the entertaining side, it's a peek at what's going on when the microphone is off—from how radio works to the pranks, contests, music, and subtle misogyny behind the scenes—​a radio roller coaster of comedy and calamity in an ever-changing, sometimes punishing medium.
The story is a
smart, fast-moving,
coming-of-age tale like "Sweetbitter" by Stephanie Danler, but set in the fleeting world of radio.
The friendship story about women in broadcasting is similar to "Firefly Lane" by Kristin Hannah.
It's "WKRP in Cincinnati" meets #MeToo. The novel is 93,000 words and was edited by Christopher Chambers, editor of the
Midwest Review
. Lisa is currently writing the second book in the planned series of three.

​
"I've always loved debut novels, but not every relationship lasts. This one did. I adored this book and can't wait for the sequel. The author nailed it!"
~ Liane Hansen, retired NPR Weekend Edition host, winner of Emmy and Peabody awards