---
Now On Sale - just $25
Plus tax. Free shipping in contiguous United States. Use PayPal or your credit card.
---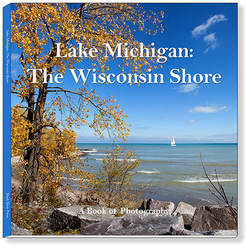 What people are saying...

"After spending just a few minutes with the book this morning, I felt like I had been on a vacation to Wisconsin. It brought me right back to childhood."

"My son received his book and called me right away. He was so happy to see the pictures that reminded him of home... Thanks for helping me find the perfect gift."
​
"The book is a knockout. I could not put it down until I had looked at every page and read each caption."
---
Also available at these fine retail locations:
​
Cedarburg / Port Washington
Cedarburg Art Museum
, W63 N675 Washington Ave, Cedarburg
Craft Books & Brews
, 317 N. Franklin St, Port Washington
Door County and Scenic Hwy 42
Good Tidings Nautical /Steele St. Floral
, Algoma
Maxwell's House
, Hwy 42, Egg Harbor
The Lighthouse Shop
, Hwy 42, Kewaunee
Northern Territory
, 20-24 S. Madison Ave, Sturgeon Bay
Schroeder's Department Store
, downtown Two Rivers
Wisconsin Maritime
Museum,ᅠ Manitowoc
Fond du Lac
The Plaid Squirrel
, N1866 US Hwy 151, near Brothertown
Green Bay / DePere
Seroogy's Chocolates
, 784 Willard Dr., Green Bay
Kenosha
Jack Andrea
, 2401 60th St.
Kohler
The Emporium Gift Shop
at the American Club
Wisconsin Trader
– Shops at Woodlake
Plymouth
Book Heads
, 214 E. Mill St
Plymouth Arts Center
, 520 E Mill St
Seranya Studios Art Boutique
, The Hub Coffee Shop, 1611 Eastern Ave
Wreath Factory Garden Center
, N6625 Highway 57
Racine
Milaeger's
, 4838 Douglas Ave
Northern Lights Gallery
, 423 Main St
Sheboygan
Aras Beks & Pottiers
, South Pier Dr
Baux (giftbaux.com
), Sheboygan gifts online
Blue Harbor Resort & Spa
, South Pier Dr
John Michael Kohler Arts Center ARTspace
, downtown
Lucy's Roost
- 618 Michigan Ave
Maywood Environmental Park Ecology Store
Nest Home Store
, 823 N. 8th St
Sheboygan Historical Museum
, 3110 Erie Ave
TLC Casuals
, 635 Riverfront Dr
Urban Artique
, 923 N. 8th St
Online gift services
Baux - giftbaux.com
, Sheboygan gifts!
WisconsinMade.com
---
Corporate Gift-Giving and a unique new Employee Recruiting Tool
If you're in the service industry, staying top-of-mind with your clients is important. The book is a unique way to thank your customers, employees and vendors. It's also a great way to recruit new employees to the area as it illustrates the beauty of living on the great lake.
Opportunity to sell the book in your store
We are currently seeking gift shops, book stores, galleries and museums that would like to sell this great souvenir. For pricing and more, call (920) 452-4469.